Outstanding 3 Strand Hand Made Necklace Peruvian Opals, Bone, Amber, Peridot, Carnelian, Boulder Opal.

Peruvian Opals, Batiked Bone, Amber, Carnelian, Peridot, Vermeil Spacers and a Boulder Opal Pendant. If this does not make a statement - nothing will. This necklace is fashioned as three separate necklaces. They can be worn individually or in combination. The longest strand is composed of a graduated strand of Peruvian Opal Rondelles separated by Batiked Bone Beads, The centerpiece of this strand is a lively and lovely Boulder Opal Pendant. The center strand is composed of Amber Rondelles and smaller Batiked Bone Beads. The Shortest of the strands is composed of Large Faceted Carnelian Beads that glow as the light hits them. Each bead is separated by a Faceted Peridot and Vermeil Discs. This necklace is one of a kind.

Each necklace is finished with a 22K Gold over Copper J-Hook Clasp .


Price: $700.00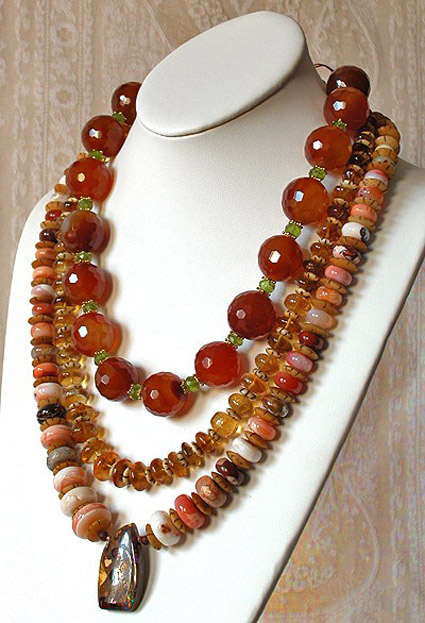 The shortest strand is 20 inches long.
The center strand is 22 inches long.
The longest strand is 25.5 inches.